Trollhunters is an animated series, produced by Cha Cha Cha Films and DreamWorks Animation. The first two episodes premiered on October 8, 2016, before the series was later released on Netflix on December 23, 2016.
Premise 
From the limitless imagination of acclaimed filmmaker Guillmero Del Toro comes a tale of two worlds set to collide in the epic saga DreamWorks Trollhunters. When ordinary teenager Jim Lake Jr. stumbles upon a mystical amulet on his way to school one morning, he inadvertently discovers an extraordinary secret civilization of mighty trolls beneath his small town of Arcadia. Suddenly destined to play a crucial role in an ancient battle of good and evil, Jim is determined to save the world – right after gym class.
Cast
Episodes
Part 1
Part 2
NO.
Episode name
Originally released
1
Winter 2017
2
3
4
5
6
7
8
9
10
11
12
13
Gallery
The gallery page for DreamWorks Trollhunters can be viewed here.
Trailer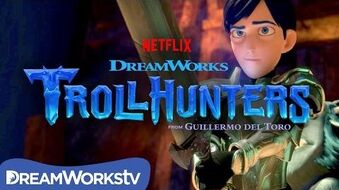 Ad blocker interference detected!
Wikia is a free-to-use site that makes money from advertising. We have a modified experience for viewers using ad blockers

Wikia is not accessible if you've made further modifications. Remove the custom ad blocker rule(s) and the page will load as expected.